Yosemite's Spring Waterfalls – 2017
After such a drought-breaking, wet winter (with record-breaking water content in some portions our snowpack), the waterfalls in Yosemite are (almost) making up for the past several years of dry winter weather! At any rate, the contrast with previous years has been incredible so far! Because of the heavy snowpack, we expect the runoff in the rivers and streams to keep our waterfalls flowing well into the summer.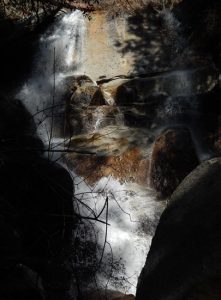 On our van tours, after we enter Yosemite, our second stop is usually an obscure, little known waterfall where we can walk nearly to its base.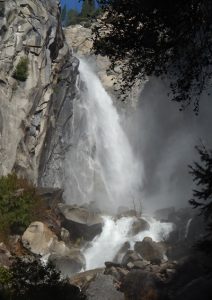 Our next stop is usually another waterfall which is quite spectacular though NOT one that is well-known.
People often ask us, "How many waterfalls are in Yosemite?" The answer depends on the weather and the time of year. But I usually answer that on a late spring or early summer day, we might see ten NAMED waterfalls on a tour. From Tunnel View this spring, a "must-see" stop, an un-named waterfall has made a spectacular appearance.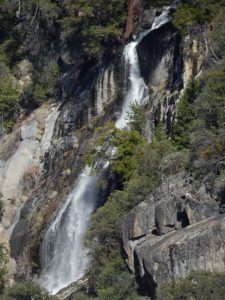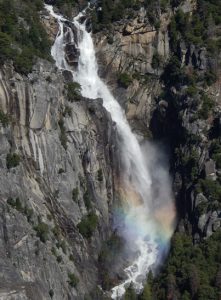 Early in our season, if conditions are right, we might make a stop and a short, easy walk to an overlook where we can view this waterfall which in the morning may offer us a spectacular rainbow in its misty lower gorge.
No trip to Yosemite would be complete without a stop (or two) at Bridalveil Fall, so here's a picture of it with the Leaning Tower to the right. (Ken made the 6th ascent of that overhanging, right profile of the Leaning tower in June of 1965. It's now been climbed perhaps more than 10,000 times!)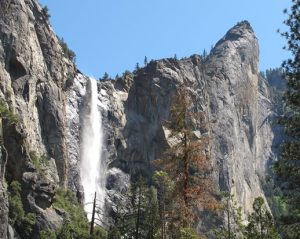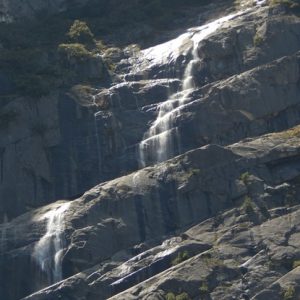 The next waterfall we might see, if it's early both in the season and in the morning, would be Staircase Falls flowing down a series of terraces from Glacier Point.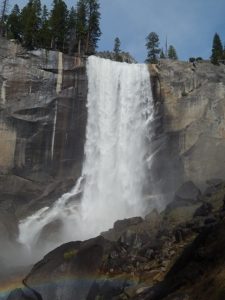 If our group has the interest, ability, and agility, we might take a steep, yet easy, hike up a paved trail that is perhaps the most popular trail in Yosemite, the Mist Trail.
On the way up, we might see Illilouette Fall off to the right side of the trail, tucked away in its nearly impassible gorge.
We normally walk only about halfway up Vernal Fall since going higher diminishes the views of Vernal Fall.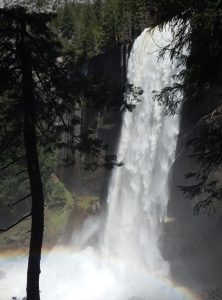 However, if you choose a Custom Tour and possess the desire to go beyond the half-way point, we can continue up the steep, wet stairway to obtain more views of Vernal, and also Nevada, waterfalls.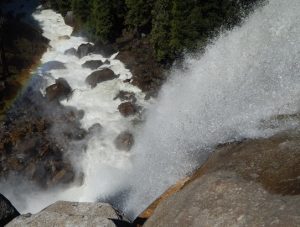 From the top of Vernal Fall, there is an awe-inspiring view down into the gorge below.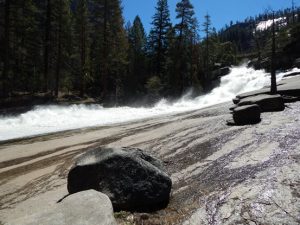 Above Vernal, is the Silver Apron which cascades into Emerald Pool, just above the main waterfall.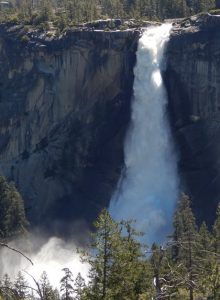 Continuing up toward Clark Point, we can view Nevada Fall, nearly twice as high as Vernal Fall, and Liberty Cap.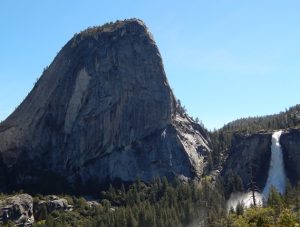 There is also a great view of the backside (south face) of Half Dome (left) and Mt. Broderick.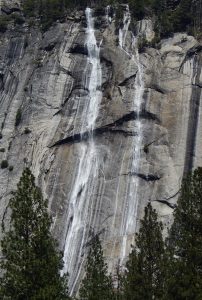 During our afternoons, we usually stop at a locality where we can view the Ahwahnee Cascade, a lovely waterfall that tumbles down the eastern end of the northern wall of Yosemite Valley. This is an especially lovely and visible waterfall early in our season.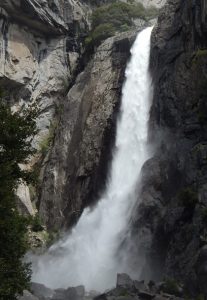 Our last waterfall stop is normally at Lower Yosemite Fall. It is another "must see" stop on your visit to Yosemite. Its power and beauty combine to make an irresistible draw to everyone who comes under its spell.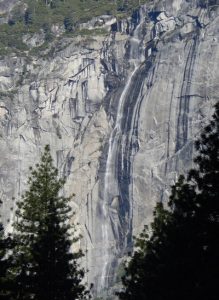 Of course, we'll stop at Yosemite Falls, but it's so often photographed that a picture of it isn't needed here. Just to the west, however, are two more seasonal waterfalls that disappear later in the summer. On the northern wall of the Valley, above Camp 4, is an un-named waterfall that crosses an obscure climbing route, the "Camp 4 Terror."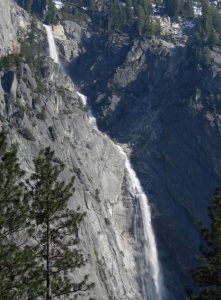 On the opposite, southern, side of the Valley, just west of Sentinel Rock, is Sentinel Falls.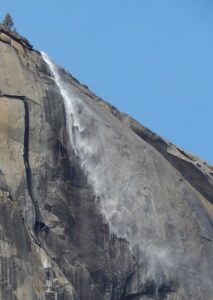 However, when we stop at El Capitan Meadow to view the immensity of that rock, its rock-climbers, and the Cathedral Spires and Cathedral Rocks, in the early season we will also see Horsetail Fall, a lovely waterfall often carried eastward by the afternoon, up-canyon winds.