We do offer custom tours in your vehicle or our van year round. If you are interested in a custom tour please contact us at info@yosemitecloseup.com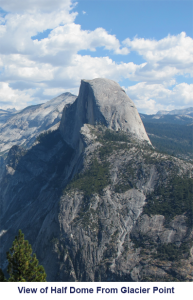 We travel in vans to many scenic locations in Yosemite Valley and along the Glacier Point Road with stops to admire the views and learn about the natural and human aspects of Yosemite National Park.
First we will wind up through the lovely forests and meadows to Washburn and Glacier Points, with their spectacular views eastward to the High Sierra Crest. From there, we view Half Dome, Vernal Fall, Nevada Fall, and Yosemite Valley from above 7000′ elevation. We provide a delicious lunch before descending to Yosemite Valley. We take short walks to both Bridalveil Fall and Lower Yosemite Fall and make stops which offer views of The Cathedral Rocks, Sentinel Rock, Half Dome, and El Capitan, with its rock-climbers. During the tour, your guide will offer interesting perspectives about the Valley's features and answer any questions that you might have.

We will pick you up right from your motel if you are staying in Mariposa or El Portal, CA. We depart daily at 7:30 a.m. from Mariposa, at 8:15 from Cedar Lodge and 8:30 a.m from Yosemite View Lodge.
We return to El Portal between 5-6 p.m. and to Mariposa between 6-7 p.m.
Your lunch choices are: Turkey and Swiss cheese, Roast Beef and cheddar cheese, and Vegetarian with jack cheese.
Rates:
Adults: $138
Seniors: $128
Under 12: $69