Some comments from our visitors:
We only had one day and made the right choice by booking this tour. They really offer you value for money and we did in one day what we could not have done ourselves in 3 (e.g. you don't have to queue up for the shuttles). Our guide was Daniel and he showed us places, photo opportunities and insights that we certainly would have missed. He is a free climber himself and the fact that he knows so many people in the park (other members of that climber's community, rangers, people who live there…made a big difference. He has a great sense of humor and seems to know stories about every plant, rock, tree or animal in the park. It transforms this into a very meaningful and far more personal experience. Thanks Daniel !
ps. the lunch they serve is with REAL bread – quite exceptional in the US…Frank
We were a group of 8 senior people of various abilities. Ken was our guide and he was wonderful. He is a wealth of knowledge about the history of the area, the plants and animals of the area and the rock formations, etc. Being a rock climber he gave us fascinating information about climbing. The park was very crowded when we went and Ken's tour made it possible for us to see much more than if we had been on our own. He offered bathroom breaks and water frequently. All of our group felt this trip was well worth the price. We had a great time. Barbara
I just wanted to compliment you on your tour guide, Dan who led us yesterday on a day tour of Yosemite! He was a wonderful guide, polite, smart, knowledgeable of his work and such a careful driver. Please know how comforting it was to have such a young man of such quality and character taking me and my daughter and four others around the park. He was amazing. Vera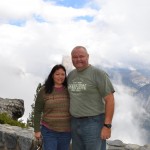 Ken, Thank you for a wonderful tour of the Yosemite National Park on September 15th, 2015. My wife and I enjoyed our visit and we definitely enjoyed your company. Bill and Naomi
Click on the image to see a video that Bill and Naomi shot on their tour with Ken.
Ken & Daniel. Thank you so much for our amazing day in Yosemite. It was an unforgettable experience. Every part of the tour was fabulous, Ken's knowledge of the park, the fauna, the geological info, the wildlife and the history were an added bonus. It goes without saying seeing a bear was truly amazing. We cannot not wait to return to Yosemite in the spring next time, we will re-book without hesitation. Thank you. The Wordsworth Family
We were a party of 4, 2 adults and 2 kids. We were picked up from our RV site by Ken. The whole day was very informative with a friendly and informal feel to this unique experience. Both Ken and driver Daniel were very friendly and full of knowledge on many different subjects covered during the day.
We stopped at numerous locations through out Yosemite and discussed many different subjects geography, geology, the natural history of the park Native American life, flora and wildlife plus much more. Jonathan
The whole day felt hassle free and it was great NOT to feel as though you were just part of the ongoing treadmill of tourist. We were shown some truly special quiet places which a day visit would not have highlighted in the awe inspiring Yosemite. Both children were also fully engrossed and thoroughly loved the day. Thanks so much for a wonderful experience. This tour was awesome! I'm so glad we decided on this one. They picked us up right at our hotel. It was nice that it was a small group. The tour guides, Ken and Lisa are so knowledgeable about the area and history. They went out of their way to take us to the most amazing waterfall! We hiked up some steep inclines and rocky terrain but it was worth it! I have never been this close to a waterfall. It was so beautiful! Though that hike is not for everyone. The lunch was good and they had plenty of water for us. We sure were tired at the end of the day. You won't be disappointed with this tour and Ken and Lisa as your tour guides. Sandy
It was a fantastic tour! What I liked most about this tour is that it's a van (and not a bus), so it's a small group, we stopped in many places to appreciate the view of the waterfalls and nature, and the tour guides are adorable! It was not only awsome to enjoy the view an the nature, but we learned a lot about Yosemite! Thank you so much for this experience! See you soon! the Brazilians...
Our car had a flat tire so we decided to book the full day Yosemite Tour……it was the best thing that happened to us. The tour was fantastic…the guide wonderfully knowledgeable and by the end of the day we had not only seen so much of the place but also learnt so much as well. Thanks again for a great trip…..it really is the best way to see Yosemite! Michael
Ken What a great tour you gave us, The beauty of Yosemite exceeded our expectations. Having never visited California and living in Florida, which has only hills not mountains, and having a guide such as you who has actually climbed the mountains in Yosemite, truly makes your tour a close up tour . Your insight and knowledge of the area made Yosemite come alive for us. Thank You. Walter and Dixie
Our first trip to Yosemite was wonderful thanks to Ira Estin! Ira is a wealth of information and our trip could not have turned out better! He guided our tour through Yosemite showing us all the highlights and details every first time visitor wants and needs to know. His knowledge and experience is second to none. He is also a prize winning photographer and gave us many invaluable tips for taking the best photos. Ira recommended two additional day trips which we took and not only did they compliment his tour, they completed our trip far beyond our expectations. He was pleasant, funny, patient and it was our pleasure to be his guests. I highly recommend Yosemite Close Up Tours for all first time visitors. Go Ira! Sharon

The tour was great!!! Ken did a very great job taking the eight in our group to Yosemite for a full day. We all thought there was not anything about Yosemite he doesn't know. Ken knows the history, geology and botany of the park. My wife and I would recommend the tour to everyone.The Nelson's
Sometimes words just aren't enough. Ken's ability to weave together his knowledge of geology & flora & fauna, his passion for the area & its unique history, his unique experiences as a mountaineer & rock climber (for a time unknowingly walking in the footsteps of his forebears!) and work it into a vibrant, unforgettable experience is masterful. He introduced me to YNP a year and a half ago, and not a day has gone by that I haven't thought about how much I want to return. Consider yourself forewarned…his love for YNP is infectious! Audry
This was my first visit to Yosemite which was in early July. I couldn't be happier that my husband & I booked this tour & our Guide was Ira. What a amazing & delightful man – from his Bear hat to his charming smile!!! His knowledge & love of Yosemite made this day one of the highlights of our trip. The cost is worth every penny & even more, so be ready to tip him. The lunch was delicious ( amazing, that a turkey sandwich & cookies could taste so good) & the location was a wonderful & restful hideaway – as well as the rest of the "secret" places he showed us along the way. Ira interacted with each person in our group & patiently answered all questions. I will recommend everyone I know to use this tour service.Wish we had more time together, the day flew by, but we never felt rushed.It felt like we saw enough of the park even tho Ira told us we were only seeing a small portion of it. He was organized but made us feel he was customizing his route to accommodate individual interests expressed in conversations. We would love to come back again & hope Ira will be our guide the next time too. We pray the recent fires didn't devastate this beautiful area & Ira & Ken are safe. Would LOVE to hear any updates …Ellen

It was an exciting and wonderful experience to see and share the beauty of Yosemite National Park, with my wife. It was made even more of an encounter with Nature seen through the eyes of tour guide Ira Estin. Ira has a special knack at pointing out what one may have missed at first glance, he took us to special areas we would not have known about. The tour included learning about, trees, plants, rock formations and the majestic beauty that is Yosemite. His knowledge and reference materials were exceptional. It was a spiritual feeling walking in the sunlight then the shadows in the past and future. Thank you Ira for adding to our special adventure and memories. Andy and Donna
We would like to thank Ira for his tour in September 2013 (we: me, my son Nicolas) and his interesting explanations concerning lichen and granite. We were in a group of 6 (4 Germans and an American couple) and we spent a great time with Ira. I hope that he will continue for a long time. Yosemite was one of the highlights of our tour which made us travel in California, Arizona and Nevada. Vielen and Karin
Sofia, Irene and I went on a tour with Ken. We thought he was a wonderful guide and gave us a lot of insights into the geology, history, flora and fauna of Yosemite. We really liked being in a small group of 6 and enjoyed getting out and walking around as well. Ken is very personable as well as knowledgeable. We highly recommend this tour and would definitely go on the other excursions with Yosemite Close Up. Kathy
The tour Ken gave us was fantastic!
He packed so much interesting sightseeing and fascinating commentary into the day. We saw and learned so much! If you only have limited time to see Yosemite, this tour is the best way to get the most out of your time! Orry
We visited Yosemite on 21st June and had the most fantastic tour. Ira – you were brilliant! You made the day so special for our family of 3 and also another couple Denise and Mike. Our recommendations have been passed onto our friends and family back here in Scotland. Thank you! ps Ira – Emma very much appreciated the photography tips Mark Donna and Emma
I had a wonderful tour with Ira Estin. I have Parkinson's disease and a ruptured disc. He was at all times sensitive to my needs and did a terrific job of watching out for me and the rest of the tourists. Thank you for a delightful day. Josie
Hello Ken,
We, my wife and I (the Germans), had taken a tour with you in June through Yosemite National Park. Now it's July, you know, one of the worst 12 months in Germany :-) and we're back home. I should like to say thank you. Many thanks for this fantastic tour. Without you, we wouldn't never seen all those wonderful places in such a short time.
Especially pleased us your background information and stories. A'thing was very interesting. I've looked up by you tube for "frazil ice". Fantastic pictures. Anyone who have in mind to visit Yosemite National Park, I'll recommend to book a tour with you. Greetings from Germany Volker and Manuela
Hi Ken,

Thank you , once again, for the exciting and highly informative tour through your Yosemite "homeland"! (June 2013) It was one of the highlights of our 2-week tour through California! What a spectacular landscape you have introduced us to!
Cheers,
Eleonore and Erich
I would like to THANK Ken Boche and YOSEMITE CLOSE UP TOURS!!! My sister and I went to Yosemite in May and had the most enjoyable time of our lives. We had Ken as our tour guide and he showed us the park. With his knowledge, experience of camping, climbing the rock mountains and living off the land. The man is a wealth of knowledge. You will not find a better guide. His family heritage is there. I would tell anyone if you want to learn and see all you can. Go to YOSEMITE CLOSE UP TOURS!!! It will be the best money spent on your vacation! Thank you again for a great time!!! Doreen
All comments from previous guests are true! We, six of us, had the privilege of Ken as our guide. There was plenty of individualized attention, in depth detail at every turn, peppered with a quirky sense of humor, and a hearty lunch. Ken and Yosemite are treasures, providing a truly memorable experience! Muriel