YOSAR El Cap Rescue: May 10, 2014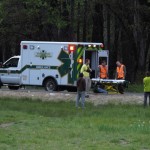 It was late in the afternoon in El Cap Meadow when I arrived with my tour group. There were 3 YOSAR (Yosemite Search and Rescue) vehicles parked on the Straight-Away. I asked an anonymous person in the Meadow if there were an actual YOSAR Operation underway, but they hadn't a clue!
So I continued to offer my guests my own perspectives on the how-to's of Yosemite climbing and its equipment over the past 50 years!
During my discussion with them, suddenly the lights in the YOSAR ambulance lit up, and there began to be activity around it.
Soon, the YOSAR Team emerged from the forest, escorting a wheeled litter with a climber strapped into it.
They blocked afternoon traffic and crossed the Northside Drive to the waiting ambulance.
Then an anonymous climber approached the litter and greeted his apparent climbing partner. After their greeting and his expression of concerns for his partner's well-being, I asked him about the events that led to this rescue operation. He told me that the two of them had been trying to free the Salathe Wall and that while down-climbing from Mammoth Terraces to Heart Ledge, a block had been pulled off, and it had fallen and hit the injured climber on his foot and broken it.
Extremely professionally, the YOSAR Team aligned the portable litter on which the climber had been transported with the ambulance litter; then they lifted the climber from his rescue litter and deftly slid the ambulance litter beneath him, preparing to evacuate him from El Cap Meadow.
I had to leave with my guests by that time, but I assured them that the climber was in the best of hands!!! THANKS TO YOSAR FOR ALL THAT YOU DO!