Our friend, Audrey, daughter of El Capitan rock-climbing pioneer Bill "Dolt" Feuerer, visited recently, and we found a break in the rainy weather to have a lovely afternoon visit to Yosemite Valley. First she wanted to show me her climbing gear rack that she's acquired while gaining skill and experience in rock-climbing. Lots of different kinds of "nuts" and cams.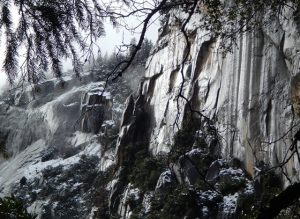 On the walk up to Cascade Fall, the adjacent wall was glowing in the emerging sunlight as melt water ran down the rock faces.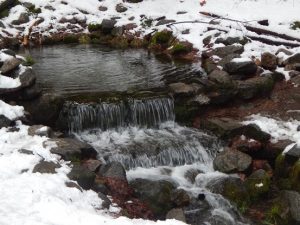 After years of drought and seeing Fern Spring sometimes completely dry, it was great to see her at full flow again.
At Tunnel View, the unveiling clouds showed us Half Dome, Sentinel Rock and Dome, the Cathedral Rocks, Bridalveil Fall, and the Leaning Tower.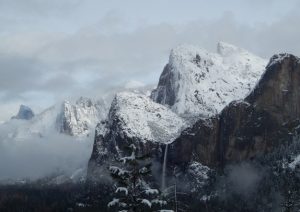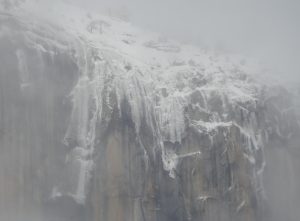 Audrey had never expected to ever see snow in Yosemite, so she was especially excited!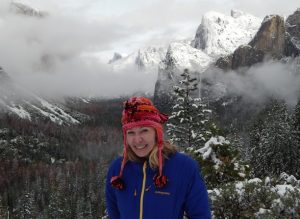 An all too brief hole in the clouds revealed the huge masses of ice clinging to El Cap's upper reaches.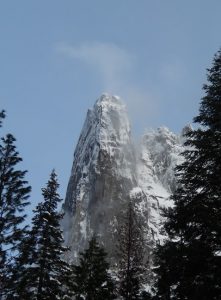 Sentinel Rock with its icy cap looked especially forbidding.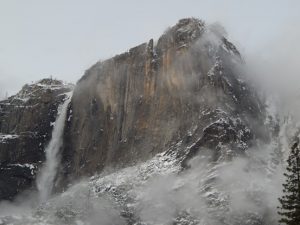 Upper Yosemite Fall, the Lost Arrow Spire, and Yosemite Point Buttress all stood out in rather chilly relief.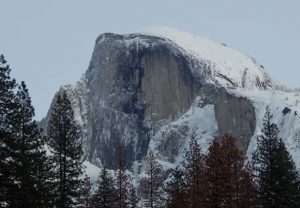 Half Dome looked icy-cold!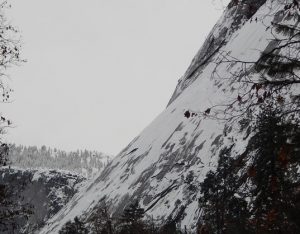 The Glacier Point Apron looked WAY MORE SLIPPERY than usual.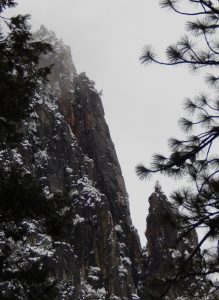 As the clouds began to close in once again, we got a brief view of Arrowhead Arete, which Bill "Dolt" had climbed for the first time ever, back in 1956.