What Do Our Guides Do for Their Vacations? Part 2: River Trips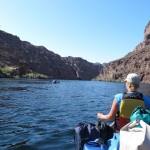 May 17, 2013
Part 2: River Trips
After sorting my river stuff in a casino's parking lot, I crashed with Ira, his cousin, Mike and friend, Sue, both of whom I'd met decades ago in the hotel itself. The following morning we got up early, did final reorganizing, got picked up by Desert River Kayak, LLC and were taken to the put-in for Black Canyon about half a mile below the Dam.
The actual put-in was quite hectic, working under strict time constraints, but eventually we got on the river which immediately calmed everyone down.
Very shortly, we came to our first landing at a hot spring. Ron (whom Ira and I knew from the UCLA Bruin Mountaineers in the late 60's) and Mike were paddling 2 of the 3 kayaks were extremely helpful with their maneuverability.
Likewise, Kelly who was also in the Bruin Mountaineers, was helpful in his Kayak.
Ira & Jen were in one canoe
while Joanne and Chandra were in another, and Sue and I paddled the third one.
Upper Black Canyon hosts a surprising number of hot springs, some close to the river and others up side canyons, so we made several stops some without hiking at all and some with interesting hikes up side canyons. The hot springs ooze various chemicals in solution with the water, some of which precipitate out….
while the deposits host various unfamiliar organisms.
Here's Sue near a spring whose water was scalding hot!
In several places, people have created pools with rocks and sandbags which we used for soaking and hanging out.
In some places up side-canyons, there were fixed ropes to help us get up and down more challenging sections.
That first night we set up camp near the river on the sand of a side canyon.
After eating we made a campfire and sang and told stories until we were ready for some shuteye!
Next morning, we had a leisurely morning
and finally loaded the boats and prepared to leave.
Down river a ways was a very cool cave.
That night we camped at a very popular canyon mouth with many other parties nearby. We sorely missed the solitude and privacy of the previous night, but we still sang and told some stories. Next morning there was a lovely reflection in the river.
Again we loaded our boats and set out downriver.
Emerald Cave was a lovely experience.
We pushed on steadily down the river since we wanted to get to the take-out in time to meet our shuttle back to our cars.