Spring Tours Combine Waterfalls and Wildlife with Human and Natural History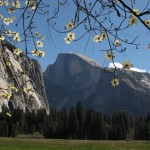 After entering the park and stopping to review the formation and erosion of Yosemite's rocks, we stop at two of the less-known waterfalls that are unmarked on most maps or road signs.
After the first two stops, we head up toward Glacier Point where we get spectacular views of the Clark Range, Mt. Starr King, Vernal and Nevada Falls, and more…
On special occasions, we may view one of Yosemite's brown Black Bears. This time of year, they are usually foraging for insects inside fallen logs.
As the snow melts, the snow plants emerge; without chlorophyll, they help in the decomposition of the organic matter on the forest floor.
After lunch, we descend and enter Yosemite Valley, stopping at Tunnel View and Bridalveil Fall. If the sun is just right, we sometimes see a rainbow on Bridalveil Fall. While the spring run-off is underway, Silver Strand Fall is also visible from Tunnel View.
Entering the Valley, we usually we get an excellent view of Ribbon Fall, the highest single-drop waterfall in North America. El Capitan offers opportunities to reflect on how small we really are, especially while viewing rock-climbers while they scale its massive walls.
Sentinel Rock stands erect over the central portion of the Valley.
As we continue up the Valley, Upper Yosemite Fall draws our attention, and the high river offers photo opportunities for reflections.
And when apple trees bloom, we get a sense of the historic background of the Old Village as well as its lovely setting.
As we near the upper end of the Valley, we can see Half Dome, framed by flowering dogwood trees.
With good timing, one can catch a crescent moon rising over Half Dome.
Our last stop at Valley View gives us a chance to reflect on our wonderful day in Yosemite.