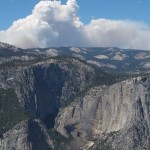 The Tioga Pass Road has been closed between Crane Flat and White Wolf, cutting off access to the East Side through Yosemite. Those needing to go to eastward and still see the East Side's spectacular scenery on the way to Death Valley and Las Vegas are advised to go north to Sonora Pass (Hwy 108) and down to Hwy 395.

This picture, taken from Glacier Point, shows the dry Upper Yosemite Fall as well as the cumulus cloud rising above the smoke of the Rim Fire. Please note the exceptional clarity of the smoke-free Yosemite Valley. Other pictures, taken today (Aug. 28th) also show spectacularly clear air quality in the Yosemite Valley-Glacier Point area due to the southerly winds that blew strongly throughout the day, taking the smoke northward, away from the heart of Yosemite.
:
:
:
:
Since many people have declined to come to Yosemite at this time, the park is relatively free of traffic hassles; yet the views are spectacularly clear and crisp.
Wildlife Sightings:
Bears, deer and coyotes have been unusually visible over the last several weeks. Today, our tour had a memorable encounter with a male black bear on the Glacier Point Road. He crossed the road in front of us, and we were able to stop in a turnout and view him from a safe distance while he foraged for food.