Meadow Fire Runaway – Sunday, Sept. 7th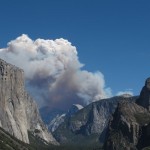 About 11:30 a.m., my tour arrived at Glacier Point where we could feel a strong southerly wind blowing and see that the smoke from the Meadow Fire had increased substantially from 2 days previously. At various times with binoculars, we could see flames reaching up from behind the hill in the foreground.
By noon, the fire and smoke had increased substantially.
We left Glacier Point then and arrived at Tunnel View at 1:30 p.m. where we saw this dramatic change in the scene!
By the time we reached Ahwahnee Meadow which was being used for a base for helicopter operations, it was 3:20 p.m.
Leaving the Valley, the scene at Valley View looked like this at 3:30 p.m.