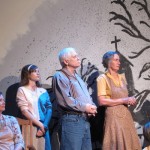 Our tour coordinator, Matty, is performing in a local Mariposa Theater production of the Rimers of Eldritch by Pultizier Prize winning playwright Landford Wilson.















Set in a small town in the Bible Belt in 1967, "The Rimers of Eldritch weaves back and forth in time as we discover how Skelly, the town's outcast, was murdered not only by the spinster Nelly, who pulled the trigger, but by the words and actions of the town's inhabitants."
The final shows are this Friday October 10, and Saturday October 11, at 7:30 pm and Sunday October 12 at 2:00 pm the Mariposa County Park Amphitheater 4998 County Park Rd. Mariposa, CA 95338.