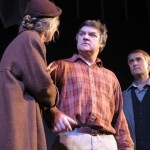 For a small town, Mariposa has its share of cultural events, including a Symphony and a couple of local theater groups.
This Friday and Saturday night at 7:30 PM and Sunday at 2:00 PM (October 25, 26, and 27) one of the local theater groups will be presenting Arthur Miller's "A View From the Bridge." Our very own Tour Coordinator, Matty Elliott and our occasional tour guide Joe Coho, both have major roles in the production.
It had good reviews from people who attended on the opening weekend. So if you are in the area stop by the park off 6th St. west of town. Follow the signs to the park and enjoy the show!