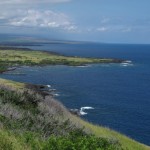 Shortly after New Year's Lisa and I flew to the Island of Hawaii where we spent 5 weeks, mostly in North Kohala where I used to live, but also making a loop around the island. We were based at some friends' airstream trailer which had been one of Lisa's long-term dreams.
Lisa made a painting of our "Cowboy Kitchen" home.
The Saturday Farmers' Market in Hawaii is always a treat with lots of variety of tropical food products. Since I had lived there for a long time, it also offered me a chance to see and talk with some of my old friends.
We chanced upon a traditional Lion Dance which is performed during Chinese New Years with drumming from the dance troupe. The troupe stops at local business where the proprietors "feed" the lion some money; this brings good luck and prosperity for the next year to the business owners.
Several times we drove between North Kohala and Kawaihae where the highway is close to the water, so we saw plenty of humpback whale activity.
We did spend several days with some other friends in Kona, enjoying their hospitality. There, Lisa saw the Southern Cross for the first time…
One day, we visited Pu'u Honua O Honaunau National Historic Site.
Then we traveled around South Point to Volcanoes National Park where we spent a few more nights camping. The view toward Whittington Beach County Park.
Punalu'u Black Sand Beach
At Volcanoes National Park, we went to see the on-going eruption in Halema'uma'u Crater.
We checked out Thurston Lava Tube;
The unrolling fronds of the native tree ferns are really lovely!
At Pu'u Loa, the petroglyphs are really extensive and varied! The concentric circles symbolize the "pikos," umbilical cords, that were placed there in order to invoke long and prosperous lives for the ancient Hawaiians' newborns.
A walk through the Sulfur Vents was a lovely contrast between crystalline sulfer and ohi'a lehua flowers.
After leaving Volcano, we drove fairly directly back to North Kohala where we packed up our things and prepared for our return to Mariposa. There awaited many preparations for the up-coming tour season…