Ken's First Long Sailing Adventure: NZ to French Polynesia-1986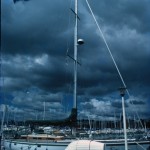 This sailing voyage is the third part of a circum-Pacific trip that my future wife, Barrie, and I took which began for both of us in Hawaii though Barrie was living in NYC at the time. She flew out from NYC to Hawaii. We flew from the Big Island to O'ahu where her parents lived; then we flew to Fiji for nearly two weeks which was the first part of our trip. From there, we flew to Auckland, NZ where we visited with Guido (Joe) and his wife, Nancy, aboard their 47' cutter-rigged sloop for a few days to firm up plans to sail with them, about a month later, to Huahine Island in French Polynesia. After staying in Auckland for a few days, Barrie and I toured South and North Islands for that intervening month which was the second portion of our trip. The third phase, the sailing voyage, began when we arrived back in Auckland. What follows was, for the most part written back in 1986, when my memory was fresh. I also kept a journal on the voyage as well. And viewing the photos, which Ed Hartouni has kindly scanned for me, has brought up a whole new series of memories which have been included here.
After 2 weeks in Fiji and 1 month touring NZ, we moved aboard Joe's and Nancy's yacht, Shanachie. (A "Shanachie" is someone in Ireland who travels from place to place singing songs and telling stories.) With Joe and Nancy, we began making preparations for the voyage to Huahine. My first job was helping Joe clean out the head and all the plumbing which had gotten plugged during a party the night before. YUK! But better in the harbor than at sea beating to windward!

Once we left Auckland, due to a lack of wind, minor repairs, and general laziness, it took us six days to sail north the Bay of Islands, a normal two-day sail. Joe and Nancy taught us how to sail Shanachie. We went thru drills tacking, jibing, shaking out reefs, using the winches, etc. We also got lessons on ham radio, weather fax and navigation with sextant and satnav. We also stopped at various places for R & R ashore, short hikes, etc.
Life aboard Shanachie along the N.Z. coast fell into an easy rhythm. If we were staying anchored in the morning, we'd have a cooked breakfast and a long talk about relationships or our past lives, or maybe people whom Joe, Nancy, and I knew from California. We seemed to get on quite well though it must have been a strain for them to have two house guests move into such a small home, especially when we couldn't leave the back porch.
One night, we anchored near a training schooner that had a square-rigged fore-mast and a more "traditional" aft mast.
We spent nearly a week in the Bay of Islands doing boat repairs, our final provisioning, and waiting for favorable winds.
The Polynesian Voyaging canoe, Hokule'a was there, and we spoke with Leon, the skipper whom I knew from Hawaii, and Nainoa Thompson, the navigator, about Polynesian star names, ancient Polynesian sailing directions, and more…
The Hokule'a crew was staying in a more or less traditional Maori community house. The traditional Maoris excelled at carving and the inlaying of pau'a (abalone) shell in their architecture.
It was a relief to finally get favorable winds for our departure, yet there was a certain tension as we looked astern toward the last bit of land that we'd see of NZ.
For the first week out of N.Z., we had generally fair winds. As we got into our watch schedule, each of us seemed to draw into our own worlds, each on a different waking-sleeping schedule. Meals became irregular as seasickness took its toll on our appetites and on our motivation to work in the galley.
Then for a week, we had N.E. winds of increasing intensity. Shanachie pounded into the wind, day and night, like a continual bucking bronco ride.
Seasickness got worse. As winds increased, we took down more and more sail. Finally we sailed for three days and nights under a storm jib and a tiny trys'l that Joe and Nancy had never had to use before in 5 years of sailing the Pacific. As the storm continued, the seas continued to increase in height which eased our pounding somewhat, but made steering much more critical.
One night on my midnight-0200 watch, a big wave came out of the darkness and hit us broadside. It carried away our wind-steering vane, the life ring and strobe, ripped out our weather cloths, and I instantly found myself chest-deep in water as the wave poured down the companionway into the boat. But Shanachie righted herself; the cockpit drained; no one was hurt, and we continued on as before, though we were even more tense than we were before The Big Wave. By morning's light, we were all amazed at how big and steep the seas were, but as the day went by, the storm began to ease a bit. Then we had two days of relatively pleasant sailing and arrived in Rarotonga in the Cook Islands for a week of repairs and rest. The Cook Islands are about 500 miles west of the Austral Islands of French Polynesia where we'd hoped to make landfall.
During that passage from N.Z., we joked about how such a trip could make the basis for Reader's Digest's latest diet fad. We could make millions! Just do a little advertising, perhaps with a song like this one that I wrote while lying sleepless in my bunk (to the tune of "Casey Jones"):
Dr. McQuacken (To the tune of "Casey Jones")
Come all you dieters we have right now
A program to help you lose some weight, and how!
If you have excess baggage that you'd like to lose,
Sign up with us for the Doctor's cruise.
Chorus:
Dr. McQuacken, hand upon the wheel;
Dr. McQuacken with the jib-sheet in his hand;
Dr. McQuacken has the weight-loss program for you,
And you can't get off it 'til you reach dry land.
Oh, the doctor's wife, Nancy, she's a might fine cook.
She'll whip up any meal from the old cook book.
She'll make up any meal that your heart could wish,
But you still lose weight because you feed the fish.
The exercise program is a mighty fine treat.
You dance rock & roll to a windward beat.
You do isometrics with each move you make.
And to lose your cookies is a piece of cake.
You're up after midnight in the pouring rain.
The doctor's orders are to reef the main.
You pull in sail 'til you're soaking wet.
And there goes another seven pounds in sweat.
And when you've arrived at your port of call,
Your excess baggage, you'll have lost it all.
At the celebration party, there will be no lack,
And in one night of feasting, you will gain it back.
As we approached Rarotonga, it was great to watch it rise slowly above the horizon. Eventually, we rounded the southern side of the island, and when we got downwind, we could SMELL the lushness of the island, a VERY WELCOME change from the scent of the sea that we'd been living in for the past many days.
Our first night in Rarotonga, we hadn't cleared customs, immigration, etc., so we stayed aboard Shanachie. But it was really great to sit on deck and just smell the tropical island after two weeks at sea. We listened to the island music floating to us from a waterfront club. And in the harbor, the boat didn't rock! The following night, our first off the boat, was my 41st birthday. We celebrated with Italian food, cake, champagne, and best of all: a tipsy, late night, heart to heart, rambling on among the four of us about lifestyles, sailing, climbing, and working. One other night we went to a Tamare (Tahitian Hula) Contest. Quite an enjoyable cultural experience.
We spent our days in Rarotonga repairing our storm damage, refueling and getting water, exploring the town, and shopping. We also did several day-hikes into the interior valleys of the lush volcanic island. Snorkeling, the reef fish were both colorful and plentiful, quite a bit like Hawaii. We had one exciting morning when the winds came up and we dragged our anchors and briefly went onto the reef! Joe quickly started the engine and we got off with little problem. But still our anchor position was precarious, and finally Joe and Nancy took Shanachie back to Avatiu Harbor where ruled a gun-happy harbormaster who had no affection for yachties such as ourselves.
After a week in Rarotonga, we set sail with fair winds, steering our course for Huahine in the Leeward Society Islands. Away we sailed into a beautiful sunrise. The following morning the winds died, so we started motoring and ended up motoring for four days all the way to Huahine with no wind, just the day and night drone of the engine…
Several times, we shut the engine off in the middle of nowhere and went for a swim. It was a bit spooky, knowing there were 10,000 feet of water below and hundreds of miles to the nearest land, especially when we put on a mask and snorkel and looked down into the lapis-lazuli blue depths. In all directions we saw nothing but blue, blue, blue plus a few planktonic beasties and the eerie but beautiful light rays shimmering downward into the ever deeper blue below…
Our last night out, Barrie and I slept up on deck in the bright moonlight, tropical cumulus clouds floating all around us. I first awoke to a moon-lit view of Raiatea, rising out of the ocean. A while later, that tropical, pink glow poured into the sky with Raiatea and Tahaa off our bow, Bora-Bora off our port beam. On glassy smooth water, we cruised, past Raiatea, a beautiful volcanic high island, and on to Huahine where we dropped anchor and finally turned off the engine. Ironically, as we cruised over to some friends' boat for our first Hinano beers, the long-awaited winds finally arrived. It was a relief to finally finish the passage, to arrive in French Polynesia, to be able to relax, more or less, completely.
As couples, on the passage, none of us had had any privacy, though as individuals we had plenty of privacy, either on watch or as we lay in our rat's nests (bunks). However, the watch schedule gave us time for relatively private conversation since I could come on deck while Barrie was still on watch. While I enjoyed conversations with Nancy as my watch ended, I saw relatively less of Joe because we didn't share changes in the watches, and we were on opposite time schedules.
The primary reason that I wanted to go to N.Z. and sail with Joe and Nancy was to renew my friendship with Joe. I felt that sailing to French Polynesia would give us a common goal and would therefore help in that process. It seemed to work well for us. I also welcomed the opportunity to spend some high quality time with Nancy. And the sailing as the final stage of the trip with Barrie made us realize that we wanted to take our relationship to a new level which resulted in her leaving NYC and moving to Hawaii where we built a house, made a plant nursery, and raised a daughter…