First Snow Hits Yosemite!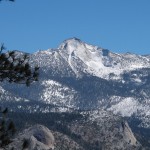 September 23, 2013
On Saturday, a fast-moving storm passed through Yosemite and dropped our first snow on the high country. By Sunday morning, the storm had passed, and dawn broke clear and glistening. The new snow made for cooler weather, superb photography, and brought some renewed vigor to such waterfalls as Wildcat, Cascade, Bridalveil, Vernal, and Nevada Falls. Yosemite Falls remain disappointing.
A walk near the flank of Washburn Point brought us to some very ripe Manzanita fruit.
Sunset at Valley View was spectacular!