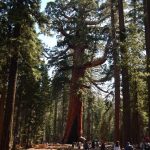 The Mariposa Grove was closed in early July, 2015, to begin implementation of a long-planned restoration project. It was principally funded by The Yosemite Conservancy which collaborates with the National Park Service to fund conservation projects within Yosemite. The long anticipated re-opening of the Grove took place recently, so we at Yosemite Close Up Tours took a "vacation day" to visit the Mariposa Grove and see what changes have been made. We can now better advise our guests and others about what to expect if they visit the Mariposa Grove.
On Wednesday June 27th, we loaded up our van with family, partners, and friends and went early to the Mariposa Grove Entrance Plaza.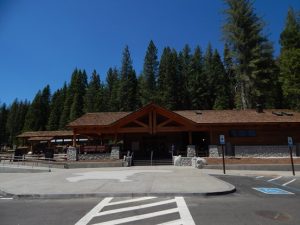 There we parked our van, waited for and boarded the free Shuttle Bus that took us up to the Grove.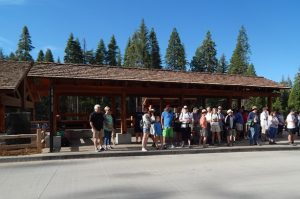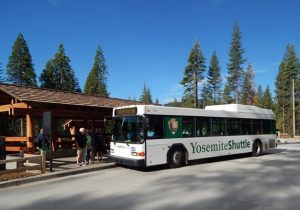 On the Shuttle Bus, we took the back seats:
Arriving at the Grove, we found a peaceful and informative area with many spots to orient ourselves to the majesty, history, and geography of the Mariposa Grove Giant Sequoias.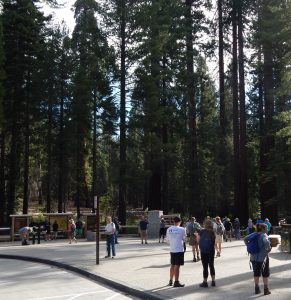 We found completely new interpretive signs and other informational resources which would help visitors to understand and navigate the Giant Sequoias found in Yosemite's Mariposa Grove.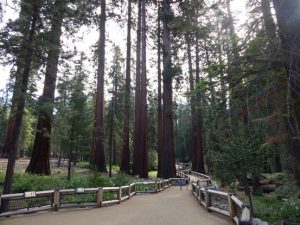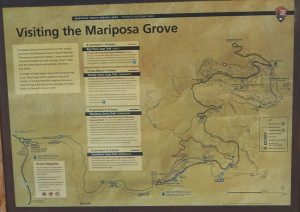 Following the newly constructed pathway among the Sequoias and along the newly restored water courses was a much more pleasant experience than we remembered from our previous visits.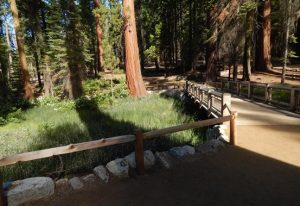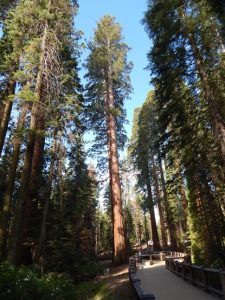 It was great to see so many small Sequoias thriving; it seemed that their regeneration had accelerated in the time since we'd last seen them.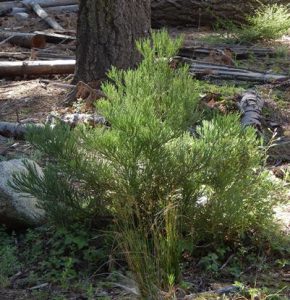 The approach to the Grizzly Giant was also improved.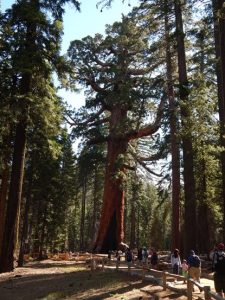 The "backside" of the Grizzly Giant is always my favorite, especially in the morning light though, as usual, it required patience to get a picture of the whole tree without others who wanted close-ups and selfies with the tree.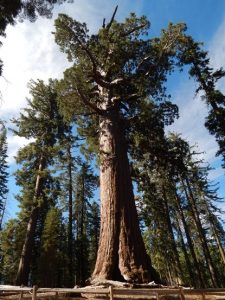 While the vast majority of visitors don't venture beyond the Grizzly Giant, we have always enjoyed the majesty and peacefulness of the upper grove with its greater number of trees, its wildflowers, the cabin/museum (which was not yet re-opened), and more.
Sugar Pine cones; it's amazing how large they grow… And how many visitors want to take the home! It's great that the shuttle bus drivers remind everyone to leave the cones for others to enjoy.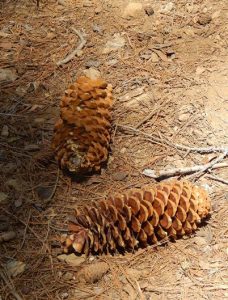 The so-called "Clothespin Tree" is another very interesting tree, worthy of a visit during your hike to the Upper Grove.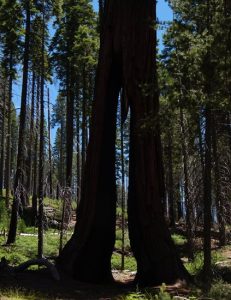 After we left the Mariposa Grove and Yosemite Park, we found a VERY LONG DELAY on the drive back to Oakhurst on Highway 41 due to the work being done along Highway 41 to clear trees that were burned in last year's Railroad Fire.