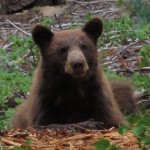 Our tours have been having very good luck this past week in our bear sightings and in the return of Yosemite Falls after some high country thunderstorms.
Our first day's bear sighting was in a Red Fir forest habitat where it was feeding on ants and/or termites in a fallen, rotten log. We'd parked safely in a turn-out and could see it from the road. A telephoto lens helped. One can easily see the log that it was ripping up with its powerful claws in order to get to the insects inside.
Our second day's sighting was very close to the road where we could, once again, safely park in a turn-out. This bear was foraging parallel to the road and gave an unparalleled opportunity to watch it eat several different foods. When we first encountered it, it was ripping into a rotten log, feeding on insects.
Then it moved on to another log.
A short time later, it moved onto a currant bush to feed on early, unripe currants.
Finally, it found an appealing ground cover which I could not identify but which the bear found quite yummy since it continued to feed on it after we left.
On the third day we saw a bear in Yosemite Valley but since there was no safe place to park, we all got a good look at it, but no pictures…