Welcome to Yosemite Close Up Tours
Due to the uncertainty created by the Covid – 19 Coronavirus, we are cancelling all of our tours for 2020. Yosemite Park is now closed to all visitation and there is no indication when it may be open to the public. We will be refunding all booking fees very shortly. Please contact us after March 31st if you have not received your refund.
We will be posting more content on this and our other websites, and we are excited about expanding our social media presence. Please explore the Close Up Videos and Stories drop-down menus in the near future.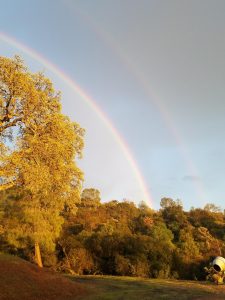 While our our staff has been hunkering down in our homes, we have been treated to a series of afternoon thunderstorms with spectacular light shows and thunder, echoing around our neighborhoods as well as rainbows in the afternoons! Walks around our neighborhoods are keeping us fit!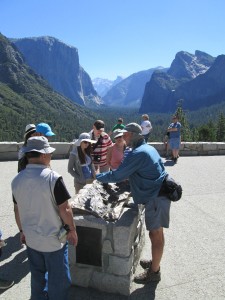 Experience the Beauty and Wonder that is YOSEMITE!! Absorb the fascinating natural and human history that our guides bring to life!
Join us for a fun tour of Yosemite National Park with gourmet lunches and activities oriented toward children of all ages, including seniors, adults and families.
Behold Half Dome, El Capitan and the other inspiring rock formations. Feel the energy of Bridalveil, Vernal, Nevada, and Yosemite Falls, and the amazing diversity of nature that is found here!
We guide you on an unforgettable adventure featuring the crown jewel of America's national parks. Our experienced tour leaders will help you connect deeply with Yosemite's unequaled scenic beauty.
WHAT MAKES US DIFFERENT FROM OTHER TOUR OPERATORS?
WE USE SMALLER VANS, NOT BUSES, so we can stop at places where other vehicles cannot. We give you a more intimate and flexible tour, focus on your own personal interests, and can better satisfy your desires.
THE PACE OF OUR TOURS is relaxed so that we can examine the wonders of Yosemite CLOSE UP, OUTSIDE OF ANY VEHICLES. We take the time to guide you to smell, to listen to, and to feel the sensual experiences available on our tours of Yosemite.
THE DEPTH OF OUR GUIDES' EXPERIENCE will help to connect you, in an intimate way, with the many wonders of Yosemite. Thus, you can be assured of an insightful, delightful, inspiring, and memorable Yosemite experience!!
CLICK HERE for more information on the Yosemite Valley and Glaceir Point Tour
Follow us on facebook