Welcome to Yosemite Close Up Tours
We have completed our regular tours for the 2019 season. We will start again on May 1, 2020.
We do offer custom tours in your vehicle year round.
If you are visiting during the off season and interested in a custom tour please contact us at yosemitecloseup@gmail.com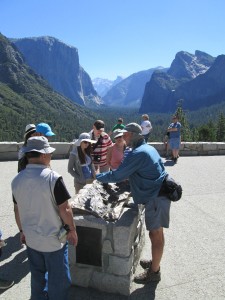 Experience the Beauty and Wonder that is YOSEMITE!! Absorb the fascinating natural and human history that our guides bring to life!
Join us for a fun tour of Yosemite National Park with gourmet lunches and activities oriented toward children of all ages, including seniors, adults and families.
Behold Half Dome, El Capitan and the other inspiring rock formations. Feel the energy of Bridalveil, Vernal, Nevada, and Yosemite Falls, and the amazing diversity of nature that is found here!
We guide you on an unforgettable adventure featuring the crown jewel of America's national parks. Our experienced tour leaders will help you connect deeply with Yosemite's unequaled scenic beauty.
WHAT MAKES US DIFFERENT FROM OTHER TOUR OPERATORS?
WE USE SMALLER VANS, NOT BUSES, so we can stop at places where other vehicles cannot. We give you a more intimate and flexible tour, focus on your own personal interests, and can better satisfy your desires.
THE PACE OF OUR TOURS is relaxed so that we can examine the wonders of Yosemite CLOSE UP, OUTSIDE OF ANY VEHICLES. We take the time to guide you to smell, to listen to, and to feel the sensual experiences available on our tours of Yosemite.
THE DEPTH OF OUR GUIDES' EXPERIENCE will help to connect you, in an intimate way, with the many wonders of Yosemite. Thus, you can be assured of an insightful, delightful, inspiring, and memorable Yosemite experience!!
CLICK HERE for more information on the Yosemite Valley and Glaceir Point Tour
Follow us on facebook